The Life and times of Ray Briddock.
---
CONTENTS
---
OK These pages about me were originally constructed in the week 28/7/97 to 1/8/97 at the University of Sussex summer school. They were loaded to my Demon website On 16/1/98, latest update 23/8/98
Mostly, when an image is seen in these pages, clicking on it will download a larger version.
Feedback has suggested some improvements which has resulted in this page no longer being the home page. Further improvements will be ...
More pubs and more info about drinking in sussex
Please let me know what is working... You can Email me. I don't bite and I won't be cross :-)
---
ME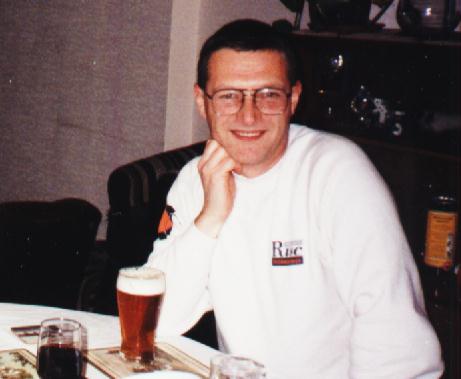 Hi.
I was born in 1960, which makes me 37 years old.
My psychological profile for those who know about such things is ENTJ.
I am married to Yvonne, (No piccie available), and live and work in Brighton, Sussex.
Hove Actually !
In December 1997 Yvonne and I had a baby daughter whom we named Heather.
This is a photograph of me. It replaces the one which was not recent. It shows me with one of my favourite objects. A pint of beer.
Sports
I have an interest in a number of sports of all types.
I watch football and support my local team. Brighton and Hove Albion. At least, they were local. Now I have to go to Gillingham if I want to see them play at home.
Occasionally I attempt to catch fish from the beaches around Brighton, Hove and Shoreham. Sometimes I even manage to land something worth eating !
I raced motorcycles between 1988 and 1992, and indulged in the activity shown below in 1992.

Click on the piccie to see what this is !


Click on the piccie to find out more about the bikes

Favourite places

Click on the map to go to the map page.

Computers

Click on the chip to go to the computer page.

---